Have you every had a weird dream so powerful, it just kept going on even after you woke up to hit snooze and to fall back to sleep?
I had one early this morning… and it left me running late for work.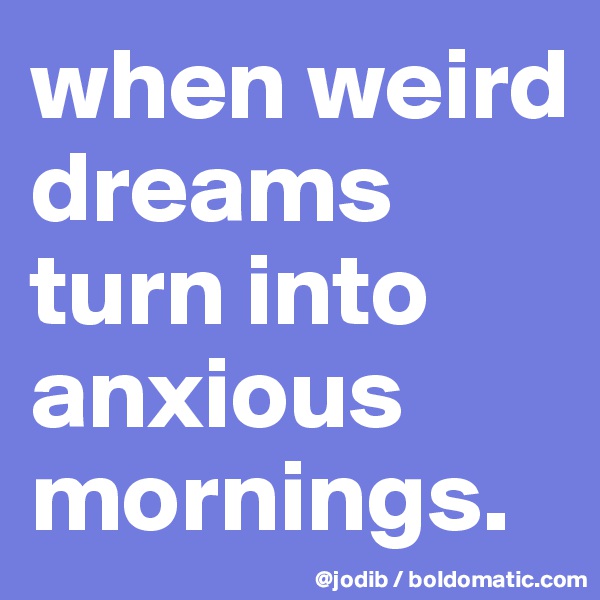 This doesn't mean the dream was good or even made any sense, it just means it was too strong of a dream to just shut off, or for it to fade away.
In my dream, I snipped off one of my fingers with something resembling wire cutters. There was no blood, no pain, and I simply held my unattached finger in my opposite hand.
Not only was I not upset, I really didn't seem to care about the loss of my finger at all.
Buzz of the phone alarm clock.
Open eyes.
Hit snooze.
Back to the dream.
A woman in my dream mentioned to me I should really do something about my unattached finger.
It was then I remembered I had a cousin who accidentally cut off the tip of her finger when a window slammed down on it. She put the tip of her finger in a glass of milk to preserve it on the way to the ER. (Okay, this part of my dream, this memory oddly enough, is true.)
In my dream, I put the my unattached finger in spaghetti sauce, but that didn't work. Then I placed it in a cup of milk, but the spaghetti sauce residue was swirling in the cup.
That's about all I remember before I heard John ask, "Erin, what time do you have to be at work?"
I bolted upright, glanced at the clock and replied, "Now!" as I hopped out of bed.
"Now?" John asked, "You told me you didn't have to be at work for another hour."
"Well, when you asked me I was sleeping, now I'm late for work because I cut off my finger in my dream," I stated, as I rushed to get ready.
When I left, John was standing in the bedroom looking perplexed. There was no time to explain.
I arrived at work half an hour late, and frazzled. As I passed by my boss, I said,"Sorry, I'm late, I cut my finger off in a dream."
Strangely, he didn't reply… in fact, he didn't say a thing.
I guess after all this time he understands my uniqueness.
I wish I had a better story as an explanation… like, I'm still recovering after a late night of clubbing in the city, I had to stop and put my winning lottery ticket in my safe deposit box at the bank, or the installation of my new Jacuzzi took longer than I expected, but I always go with the truth.
All day long, this dream kept crossing my mind so I decided to Google it.
Dream Symbol Search Results:
To dream that your fingers are injured or have been chopped off denote your anxieties about your ability to accomplish some demanding task or perform in some waking situation.
"Accomplish some demanding task." All I could think about was writing and publishing this book…
And now, as I sit at my computer keyboard, I'm really concerned because I'm going to need all of my fingers for that!
My Life I Swear.
Erin Cooper Reed