You know what's so great about being a mom? Well, everything, of course…but Mother's Day is our day! A day that we are finally recognized and celebrated for all that we do for our children, day after day, 365 days a year.
No matter the age of your children, it is always heartwarming and interesting to see what they will come up with to show you their appreciation for all of the bandaged knees, nights without sleep, skipped showers, car pools, sporting events and emergency room visits that you have endured over the past year.
I love the hand written cards, flowers stolen from the neighbor's garden (Yes, that really happened…and she was pissed) and all of the kind childlike gestures that kids come up with to give you a gift on their zero budget.
As I reflect on my Mother's Days past, I recall the year that I taught Marc how to wrap a present. Marc was an eager student and  a quick learner…this resulted in Marc's new obsession, wrapping gifts to perfection! I was amazed by all of his effort and by how precisely he was able to wrap a gift at such a young age. Of course, Marc enjoyed gift wrapping so much he took it to the next level, wrapping anything and everything that he came across and giving it to their respective owner while he watched in delight as they opened it. "Oh, MY toothbrush! Thank you Marc!" I would say, smiling as I held back my need to laugh.
This idea of Marc wrapping up a family members own possessions and standing, grinning in his own satisfaction, while they unwrapped it, went on in our home for about a year. All of us played along lovingly until we were unable to find household items that we used daily. All of this resulting in a rise in our stress levels throughout the day.
"Mom, do you know where my mouthpiece is for hockey?" Rocky bellowed.
"I don't know. Ask Marc if he wrapped it?"
Needless to say, I received my own costume jewelry, wrapped to perfection, as a gift from Marc for Mother's Day that year.
Yet, I would have to say that my most memorable Mother's Day took place when Kevin was a toddler. At the time, we had two dogs, a golden retriever named Lerxst (Please don't ask about the name – Okay, I'll tell you. My ex-husband lied to me and said that was what the breeder named him. Actually, years later I came to find out it was a nickname given to one of the members in my ex-husband's favorite band, RUSH. Whatever. Enough said.) and an adorable wheaten terrier, named Taylor. (You guessed, I picked the name Taylor, he was a  rescue dog from our local pound.)
That Mother's Day, I was sound asleep, enjoying the comfort of my bed. I guess Kevin was up bright and early with his two sidekicks, Lerxst and Taylor in tow. I never even heard any commotion in the kitchen so I was surprised to open my eyes to see little Kevin standing next to my bed with a tray bearing some food and and a drink.
"Happy Mother's Day Mommy." Kevin said with a smile.
My heart melted.
"Thank you baby." I smiled, as I gave Kevin a big hug and a kiss.
It was then, in the dim early morning light that I notice that Kevin was covered in peanut butter.
"Eat it mommy." Kevin said.
I glaced down at the tray balancing on my lap and stared at one of the most unappetizing sandwiches that I had ever seen.
The peanutbutter and jelly were oozing and the bread was crooked. I picked it up and slowly lifted to towards my mouth…wait…is that hair?
Luckily, the motion of lifting the sandwich was enough to convince Kevin that I was actually going to eat it. He was off to play in a flash.
I moved the tray, slowly got up and walked towards the kitchen. My intuition was already telling me exactly what I was about to find.
There on the kichen floor was a cutting board, a butter knife and four slices of bread remaining in a bag that was an entire loaf when I went to sleep the night before.
And Lerxst seemed to really be enjoying the peanutbutter…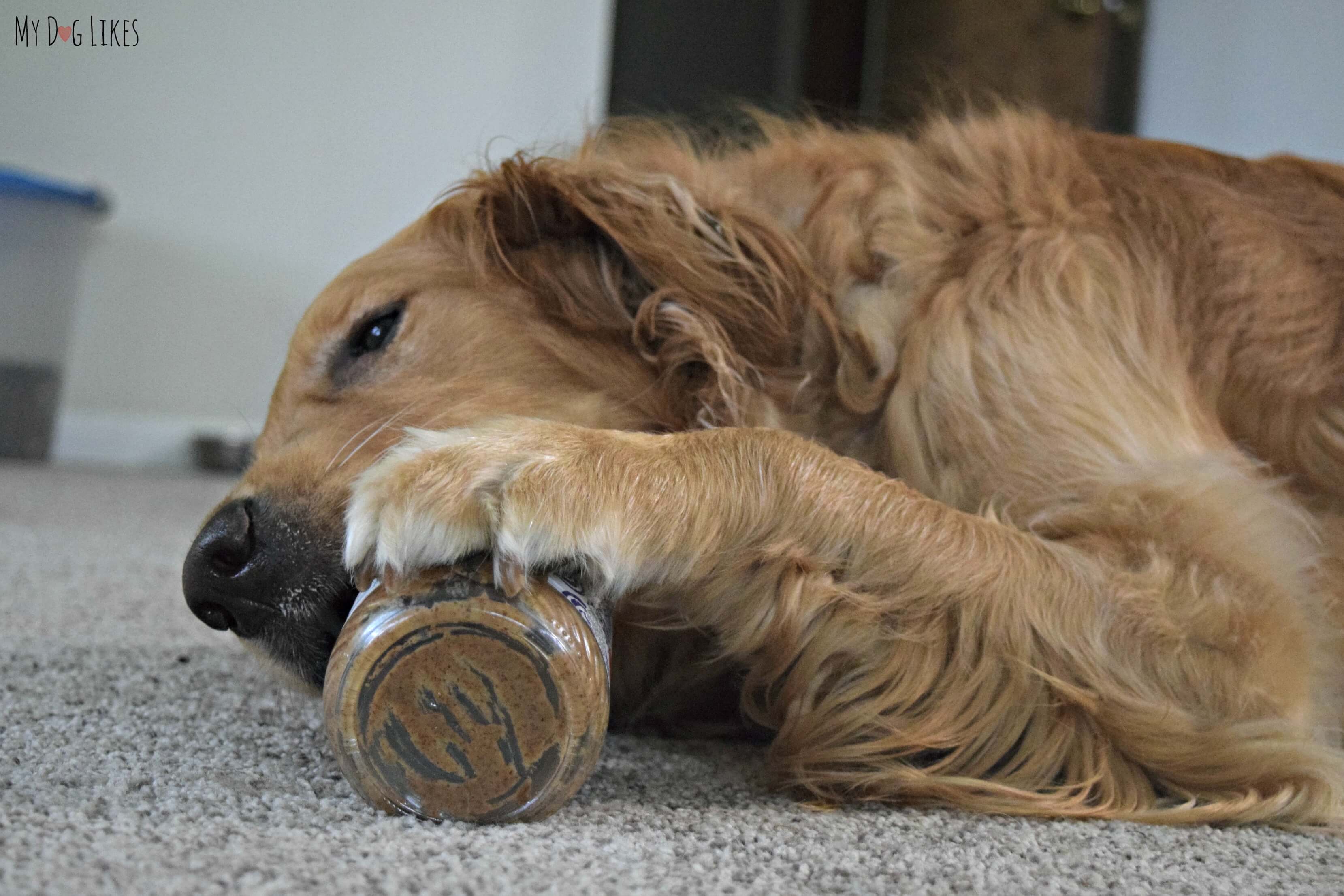 As was Taylor…
Needles to say, I didn't eat my Mother's Day Breakfast but I loved all of the thought and effort that went into it, as did our dogs.
Whatever your Mother's Day brings this year, cherish the moment, the memories and know that you are loved and appreciated for all that you do.
Have the Happiest of Mother's Days!
Erin Cooper Reed 🙂